Processed Ceramic Products
We produce processed products made with our own high-purity alumina materials.
Our processed products are used for purposes such as insulation, heat resistance, and wear resistance, and are highly regarded for their quality.
* Please consult with us about using other materials (silicon carbide, aluminum nitride, zirconate, silicon nitride, cuttable ceramics, etc.).
Advantages of Our Products
High quality and timely delivery through integrated production (one-stop production) from mixing materials to processing, firing, polishing, and testing.
Green processing reduces costs (molds not required) and enables production of complex forms.
Ultrasonic processing machines enable high precision and fine detail processing.
Major Applications of Processed Ceramic Products
Electron Microscopes

(SEM/TEM/FIB)

They are used for insulator components in all kinds of electron microscopes, and in particular, we are capable of manufacturing the ceramics surrounding the electron source that is their core component.

X-ray/Non-destructive Testing Equipment

We manufacture components suitable for high voltages.
We can manufacture Φ100mm components, as well as connector components made to custom specifications.

Analytical Instruments

We contribute to the high quality of our customers with micron-level positional precision.
We are capable of machining grooves for heater wires in the ceramic, enabling in-house manufacturing of ceramics for use in heating furnaces.

Communications Equipment

We use steatite materials with low dielectric absorption, so our products are used in a variety of facilities and equipment which handle high frequencies, such as satellites and broadcasting equipment.

Industrial Equipment

/FPD Film Deposition Equipment, etc.

Using molds for forming allows us to manufacturer products by the tens of thousands.
Please consult us regarding the shape.
Our standard products are also widely used.

Social Infrastructure

We contribute to social infrastructure with products that have passed various inspections by official bodies.
Guide to Ultrasonic Processing Machine Performance
Alignment of simultaneously processed sections is within a range of 2-5µm.
If simultaneous processing is not possible, it ranges from 20-30µm due to variance during pre-processing preparations (equipment precision)
Positional precision: within ±3µm
Wall thickness: 0.1055mm (Ceramic thickness: 2mm)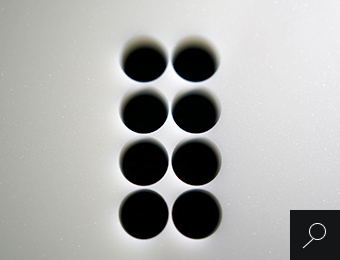 Alumina Ceramics Processing Capabilities
Stage
Category
Capability
Processing Size
(mm)
Outer Diameter
φ=140 max
Length
Up to roughly 250
Boring Length
Up to 50 (Grinding)
Grinding Precision
(mm)
Diameter
±0.02 (Standard) ±0.0025 (Premium)
Thickness
±0.02 (Standard) ±0.005 (Premium)
±0.02 (Standard) ±0.005 (Premium)
±0.01
Surface Finish
Surface Roughness
Ra = 0.8a-1.6a * Polished finish
Ra = 1.0a
* Inner diameter finish (Premium), additional consultation required
Ra = 0.8a or less
* Mirror finish (Premium), additional consultational required
* Please consult us if greater size or precision than the above is required.
* We can handle various ceramics in addition to the above materials, so please consult us.
Bonded Products/Assemblies
High-grade custom assemblies made with ceramics.
We can produce unique products to your specifications.
Integrated Production
We manufacture products compliant with
the EU RoHS Directive and REACH regulations.
Electrical Feedthroughs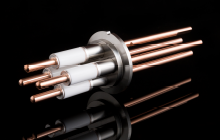 An essential component in scientific instruments creating a seal between atmosphere and vacuum.
Air-tightness: Less than 1×10-11Pa m³/s guaranteed
We can also weld flanges.
Filaments
(Electron Gun)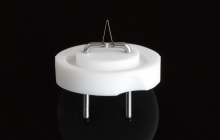 Applications include electron guns for electron microscopes, electron sources for analytical instruments, heat sources, etc.
We use pin and filament materials based on your requirements.
Specialty Brazed Products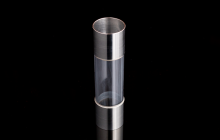 We can braze to sapphire and diamond.
There is wide-spread demand for next-generation development applications.
Electric Furnaces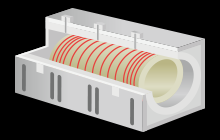 Mainly used for gas analysis.
Usable at temperatures from 600-1,000℃ or higher.
Adjusting the pitch of heater grooves in the design enables fine temperature control.
Introduction to Bonding Techniques
We have successfully manufactured bonded products/assemblies using the following techniques.
We offer an all-inclusive one-stop solution for these products as well.
Moly-Manganese Metallization Method
Metallization is a technique which causes a metal layer to grow on ceramic surfaces.
It is used for improving the wettability of brazing materials, or forming electrical circuits.

Characteristics
Heat resistant coating: heat resistant to more than 1,100 ℃ (gold brazing also possible) )
Low out-gassing: high vacuum applications
High coating bond strength: 50-70% of alumina ceramic strength (based on internal data)
Brazing (Silver, Gold)
By melting the brazing material onto a ceramic surface treated with Moly-Manganese metallization, ceramics can be bonded to metal.
Characteristics
Low out-gassing
High bond strength via high temperature brazing

Air-tightness suitable for ultra-high vacuum:


Less than 1.0×10-11 Pa m³/s guaranteed
Maintains high insulation and form stability at high temperatures
Capabilities
Our main material is Kovar, and we can bond molybdenum, copper-tungsten, copper, nickel, and invar, etc.

* Due to the linear expansion coefficient of ceramics, we recommend bonding Kovar for its superior compatibility.
* Please feel free to consult us regarding other metals.
Welding(TIG)
We can weld SUS flanges to metal brazed products in-house.
Characteristics
We can produce customized feedthroughs because we can handle it with in-house integrated production
We can propose a safe design with excellent airtightness because we can handle it with in-house integrated production
We have integrated in-house production, so we can reduce the risk of defects due to materials and quality